ETS MEDIUM PRESSURE UV SYSTEMS
Your Commercial Aquatics Sales Experts Serving the Mid-Atlantic region.
ETS Medium Pressure UV Systems
Our ETS UV unit is widely recognized as the best system on the market. Additionally, it's backed by the outstanding support offered by If It's Water.
Features and Benefits
Quality materials
Chambers are constructed from material that is suited to withstand the powerful effects of the UV disinfection process Plastics, such as UPVC are not used; this material is not suitable for chamber contamination will not produce harmful carcinogenic byproducts
Flexibility of installation
Ability to be installed in a vertical or horizontal orientation
Easily incorporated into new installations or retrofitted solutions
Compatible solution (metric available upon request)
Flanges are standard ANSI 150 RF
Flexible connection range of 2.5" to 12"
Variable power
Continuously meets dosing requirements
Improve lamp life
Reduce energy costs
Low voltage automated wiper
Keeps optical path free from fouling
Reduction in maintenance
extends lamp life
Microprocessor system for basic control to full plant integration
Touch screen display
Temperature probe
UV monitor
Data logging capability with remote access
Available in all power supply voltages
1-phase
3-phase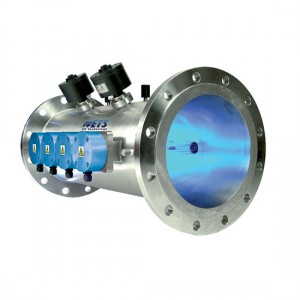 ECP Series
The ECP range of products offer a high output, ultra-compact disinfection system that has the capability to meet the disinfection demands for a variety of applications. The ECP model is a single medium pressure lamp that has been designed for the simplest installation into any pipe work system.  Flow ranges are from 114 gpm to 176 gpm).
ETS units are made in Wisconsin, USA! The ONLY medium pressure UV Made in the USA.  That means getting a part (or a complete unit) is much faster and easier than getting it from Europe or China.
ECF Series
The ECF range of products offers medium pressure, multiple lamp (typically 2 or 4) advanced disinfection system that encompasses a vast dose range for a variety of flows (from 350 gpm to 3350 gpm) in numerous applications. The compact system has been designed for the simplest installation into any pipe work system.